The Food Bank Malaysia Programme is the government's initiative set up to help ease the burden of the less fortunate in dealing with the high cost of living. The aim of the programme is simple: to hope that no one goes to bed starving, but it has downside that cannot be ignored.
Malaysia was ranked number 6 on Food Security Index in Asia & Pacific, by income level in 2015 with 69.0 score, which is relatively high compared to some other Southeast Asia countries.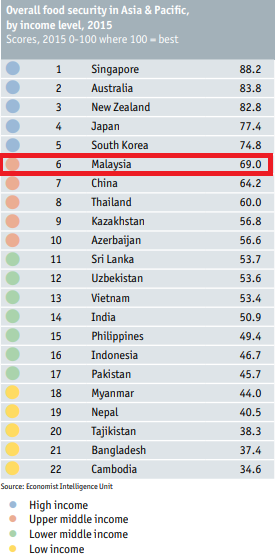 The food security may have improved with the existence of Food Bank Malaysia.
Since it was launched in August last year, the programme – jointly operated by Mutiara Food Bank, Food Aid Foundation, and Kechara Soup Kitchen – has benefited people especially those from the B40 group with a monthly income less than RM930. Surplus food distributed include basic necessities such as bread, rice and vegetables.
Food Bank Malaysia operates on a voluntary basis with donations from supermarkets, hypermarkets, manufacturers, restaurants, and hotels. Among involved with distributing food are Tesco, Econsave, The Store, NSK, and SEGI.
The government is now looking for more volunteers to help support the programme, so it would not become a one-time initiative.
Other than alleviating the cost of living, Food Bank Malaysia also strives to reduce food wastage and save the needy's money for more important commitments such as education and health.
Helping the hungry people
According to Global Hunger Index, the highest index by severity is recorded in Central African Republic with 53.7% GHI score (extremely alarming). Malaysia has the score of 13.3%, an index between moderate and serious scale.
Hunger index normally relates to poverty, but just a few months ago the country was bemused by multiple reports about starving university students who did not have enough money to eat.
A survey by Muslim Volunteer Malaysia Association (MVM) involving 25,632 students from six public universities found that three out of four students were too broke to buy food.
The reports eventually caught the attention of Domestic Trade and Consumer Affairs Minister Datuk Seri Saifuddin Nasution Ismail, who together with Finance Minister Lim Guan Eng allocated RM3mil to extend the food bank programme to those poor students so that they can share the benefits of the initiative.
Starting from Universiti Kebangsaan Malaysia (UKM) in February, the programme continued to Universiti Malaya in March, Universiti Putra Malaysia, UiTM Pulau Pinang, Universiti Malaysia Pahang, Universiti Sains Malaysia, Universiti Utara Malaysia and Universiti Malaysia Sabah in April. More have been scheduled to follow after.
To date, Food Bank Siswa has comforted 3,740 students in 10 public universities.
A lot of hungry people, yet Malaysians waste food every day
Food wastage is a serious problem that needs proper tackling in Malaysia. Food Bank Malaysia is one of the methods believed to be able to provide a solution to this issue.
It was reported by News Straits Times last year that the amount of food wastage in Malaysia could feed 12 million people a day with 16,688 tonnes of food. (Also highlighted on Overfeeding Street Sleepers that the highest material waste of Malaysian household is food).
With domestic food waste being the first to contribute to food wastage problem, the second is pasar malam (night markets) and Ramadan bazaars, followed by food courts, and food and beverage sectors.
But since the launching of Food Bank Malaysia in August 2018 until February this year, the programme succeeded in saving 1,055 tonnes of excess food. Now the programme is reaching out to more people across the country and hopefully the food wastage issue will progressively improve along with it.
Although the food bank programme has many benefits to those in need, it should not be denied that there are still downsides to it.
It is true that food bank's first and foremost aim is to help ease the hunger, but according to The Globe and Mail, food banks can never truly end it.
Starting as a good gesture, it may end with severe income insecurity among Malaysians. The need to work harder to improve the state of living is no longer needed because food supply will be always be around to feed them.