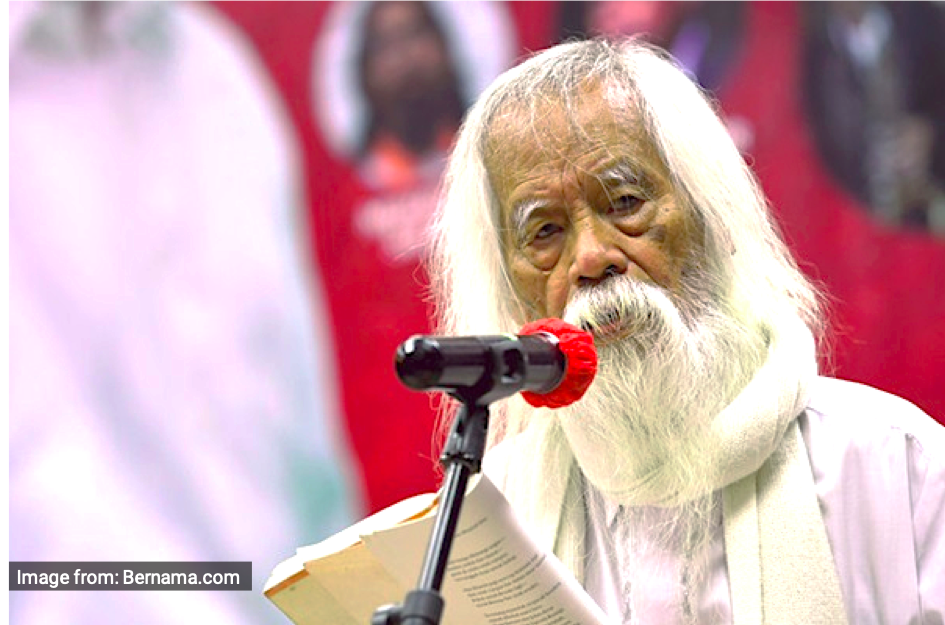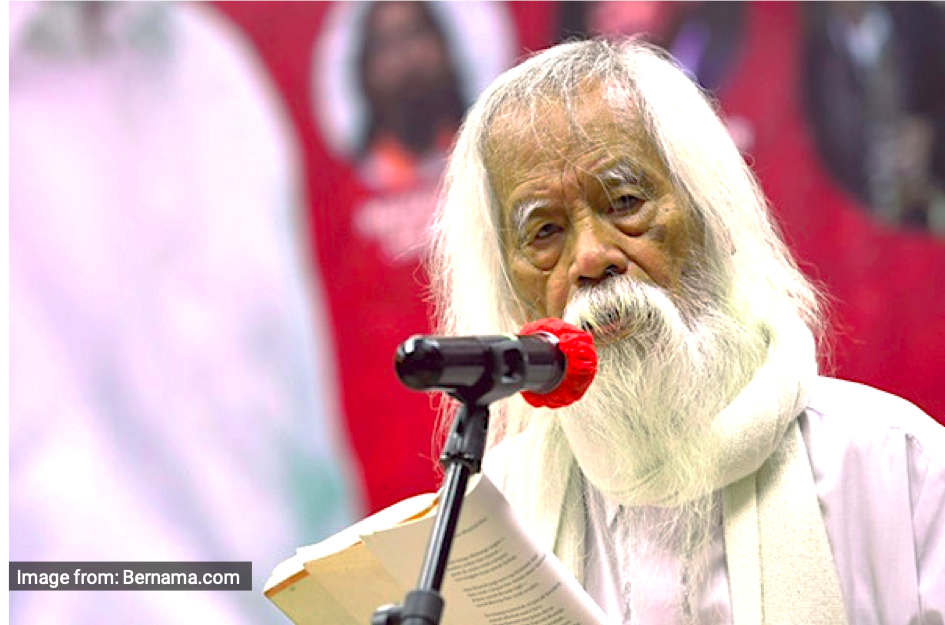 National Laureate A. Samad Said in his old age continues the fight to preserve the Malay language through his outstanding literary works.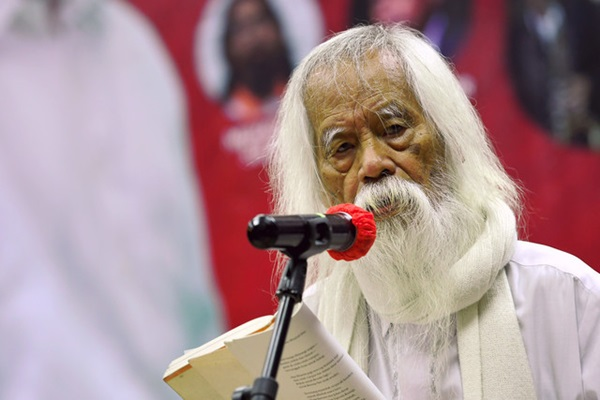 Born Abdul Samad bin Mohamed Said and fondly known as Pak Samad, he first entered the literary scene after securing a position as a full-time writer at Utusan Melayu, Warta Tebrau and Berita Harian, authoring a numerous collection of poems and short stories.
His first novel Salina was published in 1961, and since then he has been active in upholding Malay language through his passionate writings.
Being an ardent observer, he poured his personal experience and creative imaginations into every piece, and they have greatly contributed to the nation's literature.
Familiarly known by his iconic long flowing white locks, Datuk Seri Dr. A. Samad Said was recognized as Pejuang Sastera (Literary Exponent) in 1976 and was awarded the title of Sasterawan Negara (National Laureate) in 1986.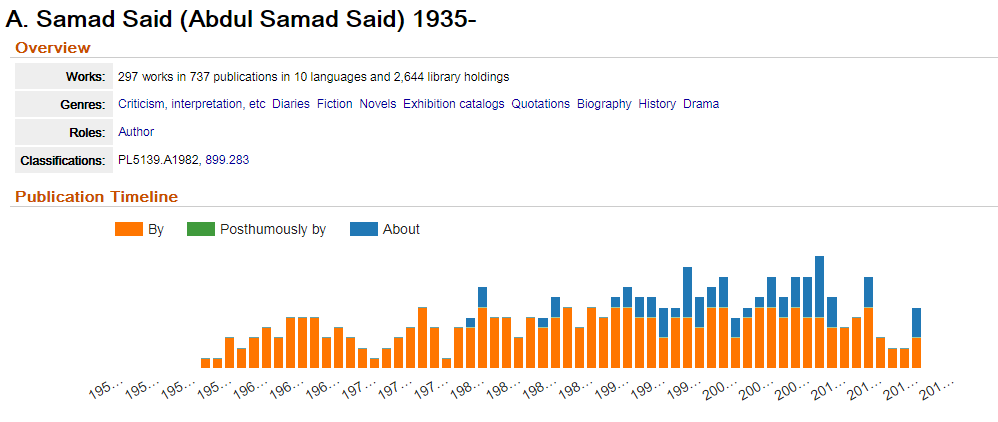 'Salina' – the Malay masterpiece
Throughout his journey as a laureate, A. Samad Said has written over 70 books. But the one book that has been regarded as karya agung Melayu (the Malay masterpiece) is Salina, a novel that tells the story of a sex worker named Salina in a world of pre-independence.
The high aesthetic and philosophical values portrayed in the novel earned A. Samad Said his good name and kickstarted his career as Malaysia's most notable literature figure.
After a huge success, Salina was then translated into the English version (The other Salina) by Lalita Sinha and was published by Institut Terjemahan dan Buku Negara (ITBN).
The message conveyed through Salina was not only to show the ugly side of life, but also the morality and the kindness of the lead character although often seen as a disgrace because of her profession as a prostitute.
Today, Salina is appraised as the first classic Malay novel to ever receive the international appreciation. The book has also been reprinted by Lejen Press with a freshly-designed cover in accordance with the new target readers.
Deep message through The Dead Crow
Gagak Parit, a poem written by A. Samad Said in 1991 was translated into English by an Australian scholar Harry Aveling and renamed as The Dead Crow (1992).
The poem was included in the Malaysian lower secondary school English literature curriculum from 2000 to 2009, where all students were required to study the poem and understand the figurative meaning behind it – a green environment that has been destroyed by the work of irresponsible humans – a subtle critism in the form of beautiful arts.
In 2017, All Is Amazing organized an event called Dead Crow as a tribute to the popular poem. Each stanza was turned into art and photography exhibition at Time Out Kuala Lumpur.
The exhibition let the participants understand the meaning of the poem in a new perspective. The crowds it attracted showed how much the poem and the work of A. Samad Said were appreciated all these years.
Awards and recognitions
Other than being honoured as Pejuang Sastera (1976) and Sasterawan Negara (1986), A. Samad Said was the first south-east Asian writer to receive the SEA Write Award when the prestigious event was first held in 1979, and was honoured as Sasterawan Nusantara in 1991.
Other than Salina and The Dead Crow, A. Samad Said's most recognized work is Hujan Pagi (also translated into English as Morning Post) and it is considered as Malaysia's first magical realism novel.
More than 100 of his works are now being kept in Pak Samad Gallery at University Sultan Zainal Abidin (UniSZA), a joint effort between UniSZA and Dewan Bahasa dan Pustaka (DBP) to promote greater sharing of the works with students and the community.
A. Samad Said has also been appointed as Sasterawan D UniSZA (Laureate at UniSZA), motivating UniSZA students to write more through the sharing of his expertise and knowledge in literature.
His works continue to support and strengthen Kesusasteraan Melayu (nation's literary heritage) and inspire new generations of writers to uphold and appreciate the richness of languages through literature.
Carrying the title of National Laureate used to briefly be a burden because the laureates did not get paid. However, it was announced that the government would be providing RM5,000 living expenses per month to seven National Laureates, including A. Samad Said himself.
The other six are Professor Dr. Muhammad Haji Salleh, Datuk Noordin Hassan, Datuk Dr. Mohd Anuar Ridhwan, Datuk Dr. Ahmad Kamal Abdullah, Datuk Dr. Baharuddin Zainal, and Datuk Dr. Zurinah Hassan. Each of these sasterawan has contributed significantly to the Malay literature and they deserve to be appreciated for their hard work.
A. Samad Said once expressed his hope to see the nomination for the next National Laureate to be extended for writers of different ethnicities who have impacted the society through their Malay literature.
"If you wish to be a writer, the first thing to do is read, the second thing to do is read, the third is to read, the fourth is also to read, then the fifth, you write." – A. Samad Said