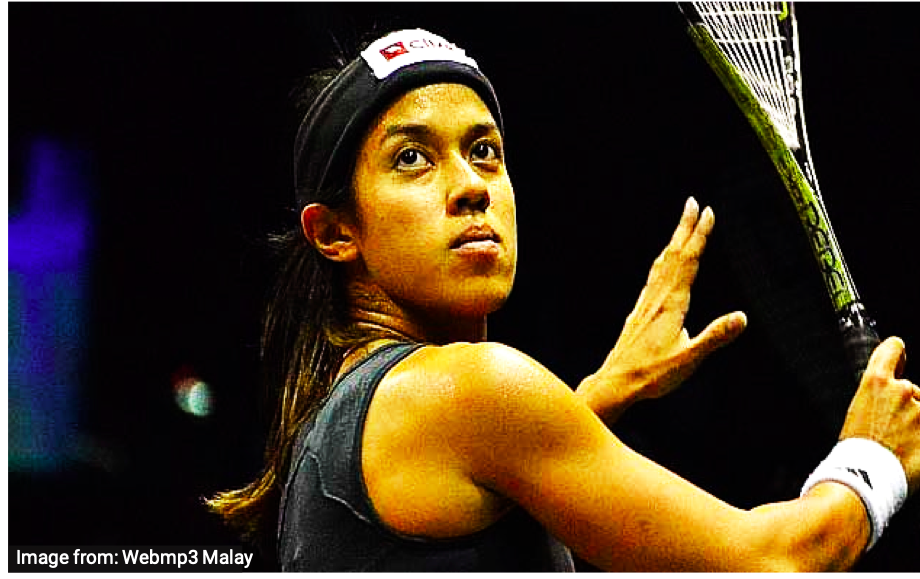 The soon to be retired Datuk Nicol David is the pinnacle of the international squash scene, but that is not the only thing she is good at.
World champion and local sports star Datuk Nicol David worked her way up to fame and claimed the title of the best squash player our generation has ever witnessed. But little to people's knowledge, she was excellent with math during her childhood.
Along the likes of Olympians Datuk Lee Chong Wei, Pandelela Rinong, and Azizulhasni Awang, she made her mark as one of the standout athletes in her own field. And it paid off with all her previous wins, without needing an Olympic medal to prove her worth.
Voted as the greatest female squash player of all time by the Professional Squash Association, her success story came with a lot of support from her family, coaches, and friends, while similarly balancing her life with discipline for her training.
A gifted champion with great math results and really supportive family
Nicol Ann David was born in 26 August 1983 in Penang to a Malaysian-Indian engineer and a retired Malaysian-Chinese teacher. During her school days, her best subject was math and she initially wanted to study engineering. The 7 A's she bagged in the SPM examination could have made her educational dream come true.
Instead of pursuing that path, her passion resided with squash, and the rest was history.
Although she did not attend formal undergraduate education, she currently holds on honorary Master of Arts degree from the University of Nottingham.
The nation's Queen of Squash started playing the sport as early as the age of 5. While her sisters were the ones who started playing squash, and Nicol would follow them to practice sessions. But she caused a lot of distraction by running around the court, hence Nicol's story hilariously started out by getting locked in a court with a racket and a ball.
Since then, the Penangite developed an interest for it, and the coach suggested she be sent to a junior development program to get started.
Nicol has a fairly large fan base across the nation, but her biggest fans and supporters are undeniably her very own parents. Her father (Desmond David) and mother (Ann Marie David) claimed they never fail to get the jitters when watching her matches.
Nicol's first competition happened when she was 8 and got her first national title. She represented her home-state and won a silver medal for the Under-16 category back in the 1992 Milo-Dunlop Sport National Junior Interstate Championship.
From then on, it was an uphill of success for the talented sports star.
International achievements come with world class challenges
Nicol David's first world championship was bagged at the age of 15. In 1999, she became the youngest woman ever to win the Women's World Junior Squash Championships that was held in Antwerp, Belgium.
Shortly thereafter, she went on to claim multiple junior titles from numerous different countries. Her achievements now include 8 World Championship wins, 9 Asian Championship wins, and a 108 consecutive month record on defending her title as the World's No. 1 squash player, and the list goes on.
In conjunction with the 70th birthday celebration of Yang di-Pertuan Negeri Tun Abdul Rahman Abbas', Nicol was graciously awarded the DSPN (Darjah Setia Pangkuan Negeri) which comes with the Datuk title, just before she reached the age of 25.
This makes her the youngest person ever to be given a Datukship. Nicol was also additionally accorded with an honorary major of the Royal Malaysia Air Force (RMAF) Volunteer Reserve, which also makes her the first athlete to ever receive such an award.
As any other professional athletes', Nicol had her fair share of injuries during her time on court. Her latest of which, was a strained hamstring and adductor that caused her to miss the 2018 British Open, a tournament she won 5 times over and never skipped since 2001.
Nicol David fortunately never suffered any major permanent injuries during her time as one of the world's top squash player. But her climb to success did not come easy.
Nicol had a very strict schedule, which required her to train two sessions a day, 6 days a week. The type of training shifts between physical training; which are typically weight lifting or cardio and endurance exercises. Whereas the other would consist of playing squash.
Despite all her awards, Nicol faced many defeats as well. The losses she took from some tournaments sometimes took a toll on her motivation. But as time passed and experience gathered, Nicol got a better overcoming her losses.
An inspiration that retired as the pride and joy of Malaysians
Nicol David took to Twitter to officially announce her retirement on 19 February 2019. The eight-time world squash champion declared the end of her professional run after her two decades of fighting for titles.
"This is a moment that every athlete must go through – to explore fully on what more there is in store for them. I am now at this point in my life, ready to take on more beyond the pro tour." – Datuk Nicol David, sourced from MalaysiaKini
Nicol graciously exited professional squash with a loss at the British Open on 22 May 2019. When giving a speech on her last play, she paid a heartfelt tribute to her coach for their bond of many years spent mapping out her career. Putting Malaysia on the map wasn't her only feat, Nicol had also inspired many young athletes and fuelled their passion for sports.
Hailing from Sentul, welterweight athlete Agilan "Alligator" Thani said Nicol has inspired him to be the best version of himself every moment. He said: "To be a champion in any sport is hard, not everyone can achieve a feat like hers. What makes her even more special is that she stayed a champ for about eight years."
Apparently, the squash icon had laid out her eventual retirement plans as early as 2018, when she made efforts to set up a foundation in her name, for the purpose of bringing sports to kids and empower girls to participate in more sports in school.
It's pretty unlikely Nicol would return to pursue an engineering degree, but her retirement isn't going to stop her from achieving more, and she has set her sights on more than just playing professional squash.
The radiating influence she has evidently inspires others to reach great heights, with growing admiration for her perseverance and passion. As Malaysians look to her with pride, the people can't wait to see what she has in store for herself and fellow young Malaysians next.