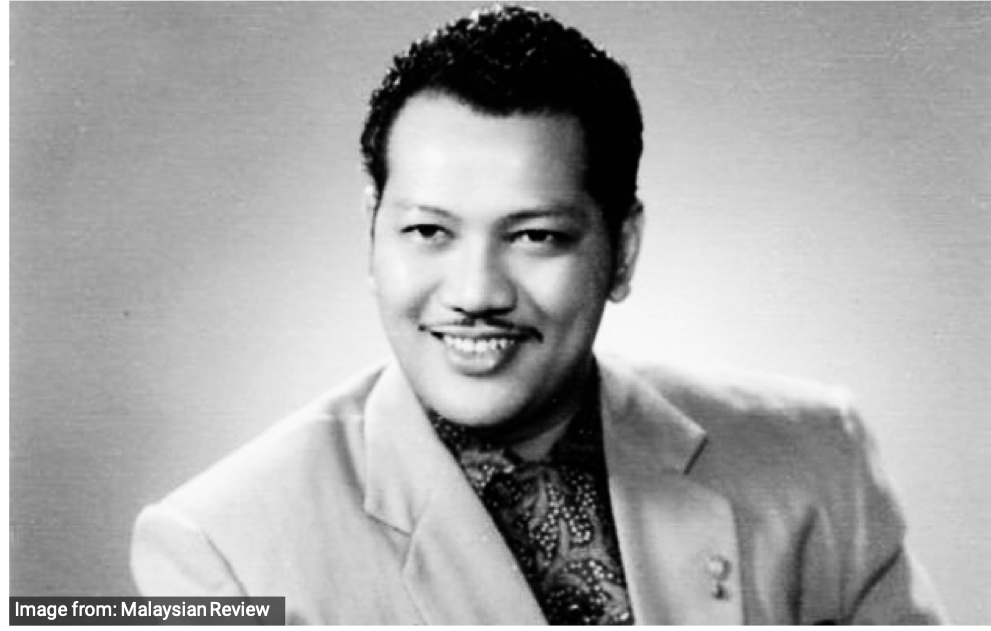 Malaysian entertainment icon P. Ramlee may have received accolades and titles after his death, but his final days in this world were not as bright as some people were led to believe.
The arrival of Western pop music and the change in taste for movies backed P Ramlee into a corner where he died, his spirit broken and his dreams crushed.
As far as the man himself was concerned, all the honours gifted and memorials built in his name after he left were worthless.
The start of a successful career
Born Teuku Zakaria, the son of Teuku Nyak Puteh and Che Mah Hussein, P. Ramlee first gained recognition when he was discovered by B. S. Rajhans, a director working with Shaw Brothers while he was performing at a keroncong (an Indonesia musical style) show in Penang in 1948.
Fulfilling the invite to join Shaw Brothers studio as a playback singer, P. Ramlee migrated to Singapore in 1949. During a test screen, he performed his first composed song "Azizah," which later became a big hit for his directorial debut Penarik Becha film (1955).
Prior to the debut, he starred in films such as Nasib and Nilam (1949), as well as Takdir Ilahi (1950). As his acting career was slowly established, his music career was also beginning to take off.
Through the 1950s until the early 1960s, P. Ramlee was at the peak of his career. His films won multiple awards and recognitions not just locally, but also internationally.
Most remembered work
Other than his traditionally instrumental music becoming everyone's favourite, his comedic movies with a touch of satire were also marking his legacy. Hype.my ranked his top nine best movies, each of them scored awards, be it for the movies themselves or for P. Ramlee the actor.
One of P. Ramlee's greatest movies of all time is the Bujang Lapok series of films. Started in 1957, also titled Bujang Lapok, it depicted the lives of three bachelors, Ramli, Sudin, and Aziz in embracing the challenges of falling in love.
The second instalment, Pendekar Bujang Lapok (1959), followed the three best friends, although unrelated and have no references to the first film, attempt to learn self-defence from a great master warrior Pendekar Mustar while competing against each other to win their master's daughter Rose's heart. The film won Best Comedy Award at the 6th Asian Film Festival in 1959.
Ali Baba Bujang Lapok (1961) came next, in which P. Ramlee played the villain – a leader of 40 thieves who live and keep their stolen treasures in a cave. The film is also remembered for the song used as the entrance spell for the cave (niat ingsun matek aji semar ngising).
The final instalment of the series of films, Seniman Bujang Lapok (1961) focused on Ramli, Sudin, and Aziz on their journey to become actors.
Hang Tuah (1956) received Best Musical Score at the 3rd Asian Film Festival in Hong Kong, while Anakku Sazali earned P. Ramlee the Best Actor award at the 4th Asian Film Festival in Tokyo.
Other than Pendekar Bujang Lapok, Madu Tiga (1964) was also ranked in the top five Malay films made in Singapore. Honourable mention goes to Tiga Abdul (1964), Do Re Mi (1966), and Ahmad Albab (1968).
Throughout his career, P. Ramlee acted in and directed 66 films and had more than 360 songs to his credit.
However, towards the end of the 60s, P. Ramlee struggled to stay relevant in the entertainment industry. His attempts to revive himself and gain back his glory were met with endless disappointment, and he eventually descended into depression.
The falling of a legend
P. Ramlee's career hit a snag after he returned to Kuala Lumpur in 1964 post Malaysia-Singapore separation in 1963. He was rejected by banks when trying to seek a loan, denied his dreams to direct his first colour film, and booed off the stage during his last stage appearance.
On top of that, his record company EMI cancelled his recording contract. With his films failed to beat the more preferred televisions, the public made it clear that his place in the entertainment industry was long gone.
A documentary entitled Di Mana Kan Ku Cari Ganti? (Where Can I Find Replacement?), a tribute to P. Ramlee, was aired in 2010 and directed by Datin Paduka Shuhaimi Baba. It was highlighted on screen that at the last Asian Film Festival he attended, he was not allocated a seat and had to sit at a back row with a friend.
He was forced to open a shop renting out mahjong tables to get money to finance his movies and to take care of his family.
The legend whose talents once made Malaysian entertainment industry internationally recognized, was now cast aside like a "has been" who did not matter.
On May 29, 1973, P. Ramlee died of a heart attack.
Before his untimely death, he composed one last song which was then sung by his wife Saloma. The song was titled Air Mata di Kuala Lumpur (Tears in Kuala Lumpur) with the lyrics depicting his broken heart over the final days of his career.
Now, 46 years later, his films are still being aired on TVs and his music is still being played on the radio especially the iconic Aidilfitri song, Dendang Perantau.
As he once told his friend the late Datuk Aziz Sattar, "Ajis, after I die, I will live on for a hundred years."