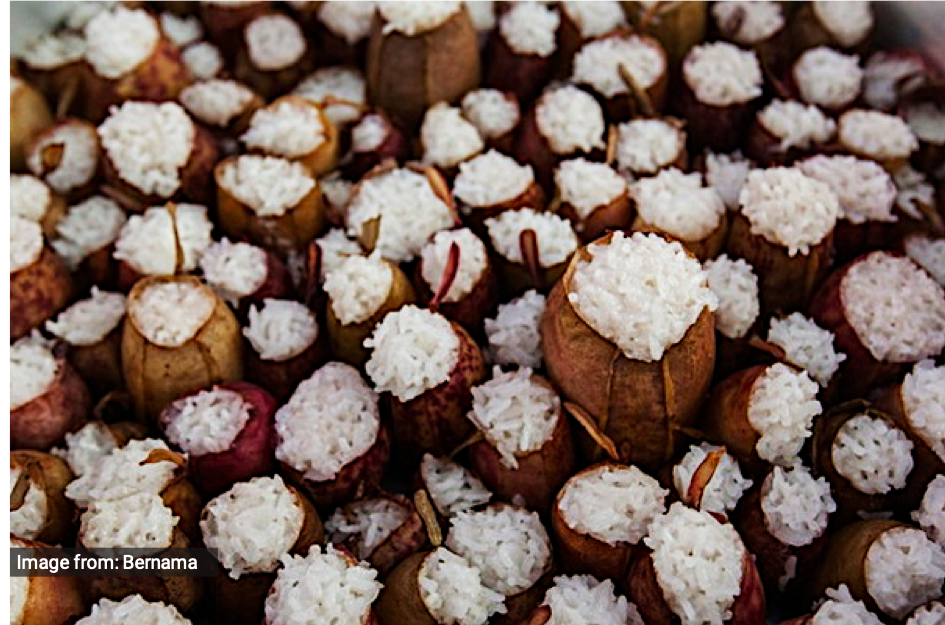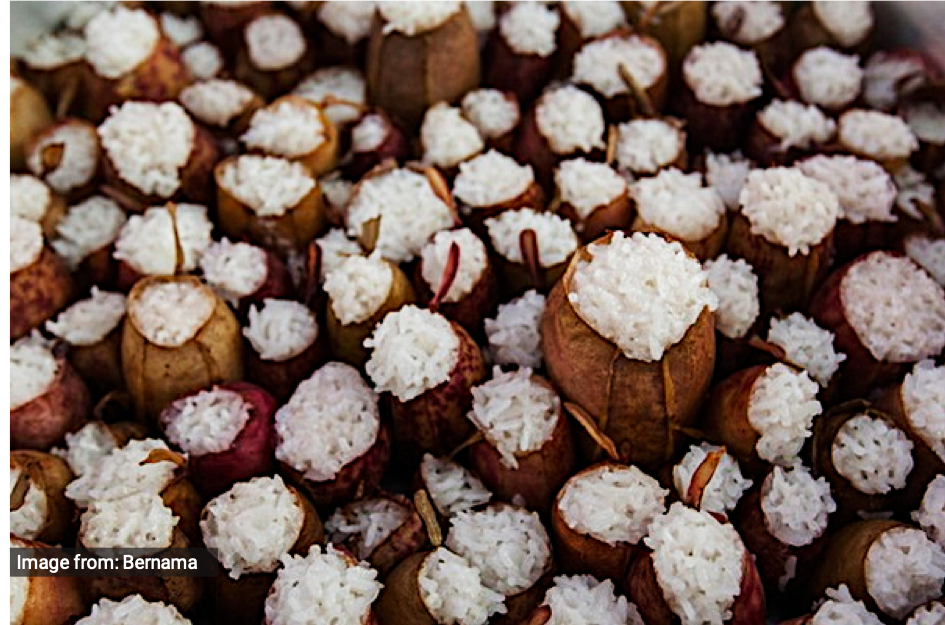 Among Aidilfitri delicacies such as ketupat, rendang, and variant kuih raya, lemang periuk kera has become the talk of the town especially in recent years.
Traditionally, lemang is made from glutinous rice, coconut milk, and salt wrapped with banana leaves and stuffed inside hollowed bamboo sticks. The sticks are then leaned on a horizontal fence, with an open fire roasting them from behind. Once cooked, the lemang is cut into small round-shaped pieces and served with rendang or serunding on the morning of hari raya.
Of late, people are trading the bamboos with periuk kera or pitcher plants for a creamier and more aromatic with a softer texture. The savouriness of the lemang was also featured in an episode of popular animation series Upin & Ipin back in 2013, highlighting that pitcher plants lemang is easier to make compared to bamboo lemang.
The origin of lemang periuk kera
Lemang periuk kera originated in Pahang and it has been cooked all over in Malaysia since the past 15 years.
Noorshafry Abdul Malik, also known as Atan, is an avid nature-lover. During an trip to Endau Rompin National park, he met a military doctor who then told him about wild rice cooked in pitcher plants in Borneo.
The story inspired Atan to venture into a new lemang business. After three months of experimenting different recipes, he finally had a breakthrough with glutinous rice and freshly-squeezed coconut milk which he later called as lemang periuk kera.
Atan started selling his lemang after he moved to Selangor to start a catering business in 2010. The people in Klang Valley have since enjoyed Atan's lemang periuk kera. During this year's festive season, he received orders for more than 200,000 pieces of the lemang.
Atan's success in lemang periuk kera business has prompted many other traders to start their own businesses.
One of them is Latipah Abdullah who started her business a year ago, before switching role as a periuk kera supplier. Since early Ramadan, she received orders for over 20,000 pieces of periuk kera from Kuala Lumpur, Selangor, Perak, Melaka, Kelantan, and Terengganu. The plants are gathered from the forests in Gambang and Rompin.
In Segamat, Johor, there is Kumpulan Pencari Periuk Kera (a group of pitcher plant hunters) looking to harvest the plants growing wild in the jungles.
With the rising demands for this type of lemang, many environmental activists, including actress and ambassador of River of Life (ROL) Maya Karin, have urged the people to stop selling and consuming lemang periuk kera as doing so would be contributing to the extinction of the already endangered plant species.
A danger the ecosystem
There are 170 species of pitcher plants worldwide with 13 of them growing in Peninsular Malaysia. The one used for making lemang comes from the Nepenthes ampullaria species.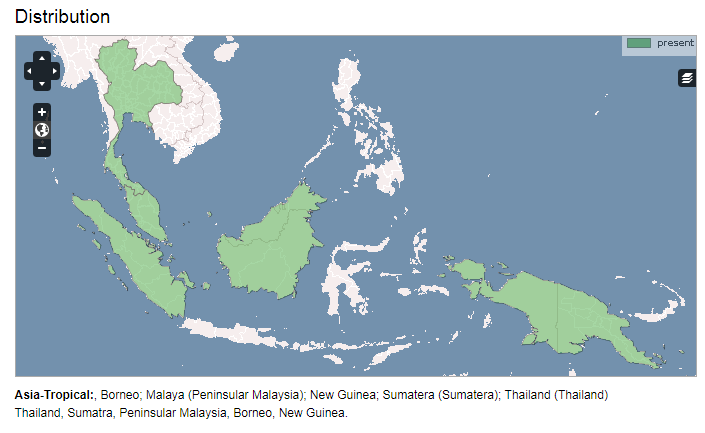 Currently, Nepenthes ampullaria is ranked as the least concern in the ICUN Red List, while some of the other 12 species are already endangered. However, the over-harvesting of Nepenthes ampullaria following the demands of lemang periuk keria could result in a decline in numbers and easily endanger the species.

In addition, harvesting pitcher plants could also disrupt the harmony of the jungle ecosystem.
Pitcher plants trap insects and absorb their nutrients. Since these plants normally grow on soil depleted of nutrients, they can provide the nutrients taken from insects to the soil. Adding to this popular belief, a study found that pitcher plants also get their nutrients from mammals' faeces, such as bats and squirrels which use the plants as their "toilet bowl".
ZoologyMY via Twitter has pointed out this fact as a way to stop people from eating lemang periuk kera during this year's Eid. The flora and the fauna in the jungles benefit each other, and humans are not within their rights to destroy this systematic ecosystem for their own delicacies.
Lemang periuk kera pioneer Atan is ready to work with the ministry and the experts, should more studies be conducted over the extinction of pitcher plants. On the other hand, he is also looking for suitable places to plant periuk kera, but there would not be enough plants to be commercialized.
To date, neither studies nor technology have been planned out to commercialize pitcher plants in the country. Seeing as how Malaysians are always keen and creative to come out with verities of food, after lemang, pitcher plants might also be used for other delicacies such as cupcakes and nasi lemak.
If efforts to protect this unique carnivorous plant fail, they could really become extinct in the near future. Thus, for now, it is best to just stick with traditional bamboo lemang.