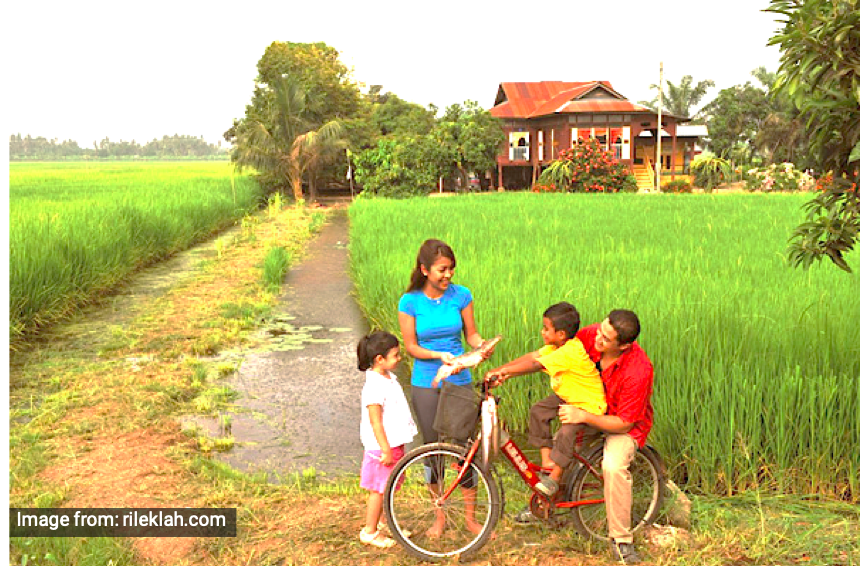 Many successful businessmen, entrepreneurs, and artists come from rural parts of Malaysia, and they have great success stories to tell.
The countryside is where the simplest pleasures of life happen – batu selambut (the five stone) is played on a wooden terrace on windy evenings with the kids from three houses away, children lining up to buy aiskrim batang (ice-cream in long and narrowed plastic bags) from an old mak cik instead of sundaes from McDonald's, and invitations to weddings are sent door to door.
These people are in fact happier compared to those living in the cities, as revealed by a study conducted by the Malaysian Urban Rural National Indicators Network on Sustainable Development (MURNInets) involving 31,733 respondents from 11 states in Peninsular Malaysia.
In the comfort of their green kampungs, these people have dreams too, carved on a tree trunk with a hope that someday it can be achieved.
Some go for it, leaving behind their homes but not their roots.
The village kid who sold comics for 20 cents
Born Mohammad Nor Mohammad Khalid, Malaysians' favourite cartoonist Lat spent his childhood days in a village in Perak chasing chickens and jumping streams for fun.
His passion for drawing started at a young age, and his career began with him selling comics to his school friends for 20 cents.
Lat's first published comic was Tiga Sekawan, brought to readers by Sinaran Brothers Limited in 1964.
But his most remembered masterpiece is The Kampung Boy – his own life story told through a tale of a village boy named Lat growing up in rural Perak in the 1950s.
The Kampung Boy made huge success internationally, translated into multiple languages such as Japanese and French, and regarded Lat as an excellent figure in the cartoon scene.
Whenever one's life gets too overwhelmed by urbanisation and digitalisation, turning to the Kampung Boy is always a good idea to get the comfort only peaceful kampungs can offer.
Small-town girl turned thriving entrepreneur
Noor Neelofa Mohd Noor, fondly known as Neelofa, came from Pasir Mas, Kelantan. As a village girl, Neelofa used to dream to further her studies in the United States, but her parents had other plans.
Starting as a contestant of beauty queen competition Dewi Remaja, Neelofa bagged first prize and the win subsequently launched her career as an actress.
Sticks and stones never broke her bones as she left the big screen and ventured into business, and produced her own hijab brand Naelofar Hijab to fill the gap in the "modest wear market". The brand now sells in 38 countries.
In 2017, Neelofa was named in the 30 Under 30 Asia by Forbes.
Rags-to-riches Sarawak tycoon
Datuk Tiong Su Kouk had to quit school when he was 14 to become a fishmonger and take over the family's fish stall.
He was handpicked by his father out of nine siblings, but sacrificing his own education so the others could secure their future was never an easy choice.
With only RM3.40 given by his father as a starter, Tiong worked exceptionally hard to get to where he is today – owning a huge business empire of frozen seafood, maritime, and housing and commercial property developments.
Never forgetting his roots, Tiong is a compassionate boss to his employees who came from roofless homes back where he himself came from, Sibu. He is also known for his generosity in charity and donations.
At the age of 77, he is now Sarawak's pride, and is inspiring many other aspiring businessmen from the remote areas of the state to follow in his footsteps.
From selling coconuts to owning 18-outlets restaurant
Datuk R. Doraisingam was not always the brightest kid in school, but from working at his father's plantation, he learned what it was like to be a successful businessman.
From selling peeled coconuts for 25 to 30 cents per piece, Doraisingam ventured into the fishing business with a friend. He saved a lot of money from renting nets and leasing boats, then in 1987 he moved to Kuala Lumpur to start his first restaurant, the Lotus Family Restaurant in Jalan Masjid India.
The restaurant has now branched out into 18 other outlets around Klang Valley and Ipoh, and his business has expanded into properties, hotels, film distribution, information technology and food distribution.
Hard work trumps education
Tan Sri Syed Mokhtar Shah was a high school drop-out from a humble setting of Kampung Hutan Keriang in Alor Setar, but he is now one of the richest Bumiputras.
His parents could not afford to pay for his SPM examination fees, and the foot and mouth outbreak became the starting point for him to take over his father's threatened livestock business. Even while he was in school, he also spent many of his days helping his mother selling vegetables at the market.
From there, Syed Mokhtar ventured into the rice trading business. Today, he holds impressive assets from MMC which span across ports, construction, and engineering, and also from DRB-HICOM in automotive, property, and education.
Forbes has listed him as one of Malaysia's 50 Richest 2019.
Villages, or any other rural areas, may appear undeveloped on the surface. The technology is not yet widely accepted, no skyscrapers needed to mark the lands, and the kids are happier rolling in the mud than sitting in front of the screen.
It's where dreams are made of, and those who dare to achieve them are always willing to break boundaries and adapt to the changes the world has to offer. But the stories they leave behind will always be a part of them and become a factor driving them towards bigger and more success.
"You need a village if only for the pleasure of leaving it. A village means that you are not alone, knowing that in the people, the trees, the earth, there is something that belongs to you, waiting for you when you are not there." – Cesare Pavese