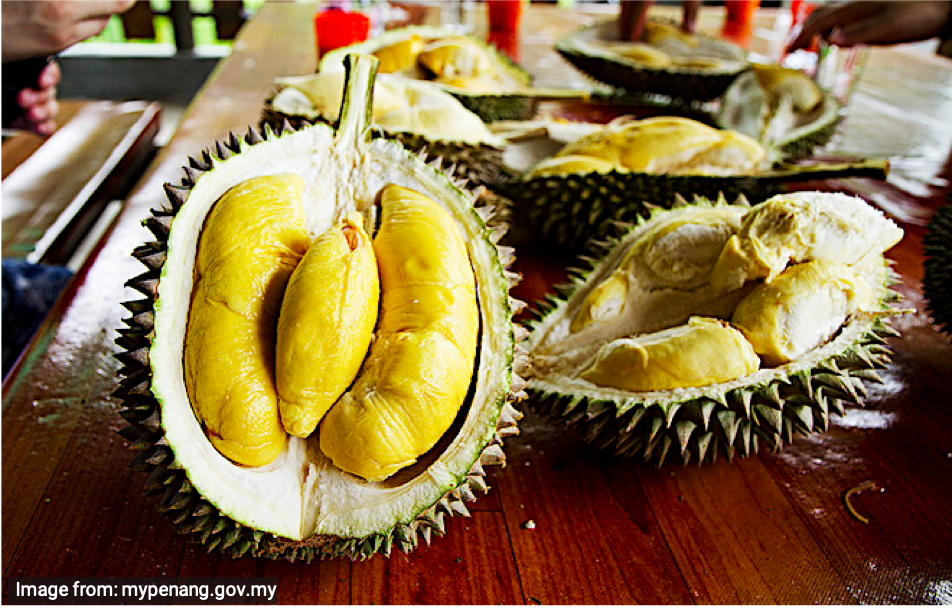 Durian, a pungent-scented and sweet-flavoured tropical fruit, is a guilty pleasure for many Malaysians, especially the supreme of all durian types: Musang King.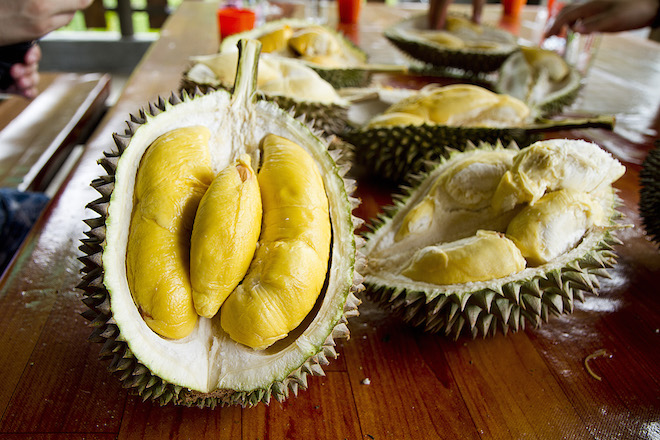 Malaysia is blessed with varieties of tropical fruits such as durian, rambutan, duku, and langsat, thanks to its vibrant tropical climate.
When these fruits are in seasons, it's that time of the year when road side stalls become colourful with all the fruits and merry with the people pulling over their cars to buy them.
Those who live in the villages rich with fruit plantations can just pluck the fruits from the trees or wait for them to drop to the grounds and pick them up to devour later with entire family members, while some sell them for honest earnings.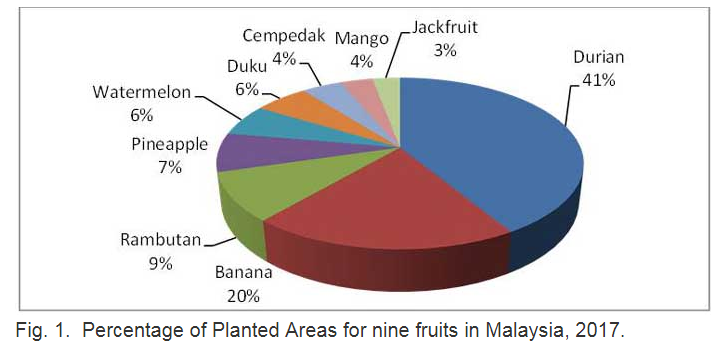 Beginning from May this year, it is the time for durian to be celebrated.
The King of Fruit comes with a strong, sweet, savoury aroma, yellow-green spiky skin, and creamy yellow flesh inside. Although normally found with different names, types, and price ranges, durian lovers mostly do not mind spending a fortune per kg, as long as they get to taste it before the season ends.
Malaysians' all-time favourite durian type is Cat Mountain King or Musang King, but over the years many new players have arrived in the durian scene. Now durian aficionados have more to choose from: Black Thorn, Green Skin, Red Prawn, and Pearl Durian (to name a few).
Despite this, Musang King still comes to a lot of people's minds if asked which durian type is the best durian.
"Raja Kunyit" parented Musang King
Raja Kunyit, the parent tree of Musang King, was planted in Pulau Raya in the 1800s near the town of Tanah Merah, Kelantan by Chung Chun Seng, a Chinese native who migrated to Malaysia in 1790. After successfully bearing fruit and dubbed as pokok gergasi (the giant tree), it died in 1974 following a lightning strike.
But before it died, farmer Wee Chong Beng managed to extract the seeds and planted them across two hectares of land in the 1970s.
In the beginning, Wee Chong Beng only marketed his Raja Kunyit Durian around Tanah Merah and Kota Bharu. In the 80s however, the durian was being planted around Gua Musang, Pahang, until it reached the entire country and outside world.
After 20 years, Wee Chong Beng finally registered Raja Kunyit Durian with the Malaysia Department of Agriculture in 1993.
The National Registrar of Varieties was "Raja Kunyit" with Variety Registration Number "D197". But the name was changed to "Musang King" after it was "rediscovered" in Gua Musang and heavily commercialized in Raub.
The word "Musang" was taken from the place "Gua Musang", and it has been widely known as "Musang King Durian" until today.
Pulau Raya – the place where Raja Kunyit originated – has been inherited by Chung Chun Seng's great, great grandson Chung Ting Boon.
Other than Gua Musang's Musang King, all the other clones also come from the Raja Kunyit parent tree. A monument was built as a remembrance of the origin of Raja Kunyit Durian.
Black Thorn a threat to Musang King's throne
Black Thorn Durian is among the new scene stealers in the durian trend, with demand for it going particularly high last year.
It has a creamy and sweet flavour, and at times sweet and sour. Its greyish-green skin and rosy, flame-coloured flesh have won the heart of many durian lovers.
The arrival of Black Thorn Durian had shifted the attention from Musang King for a short while. This type of durian even outpriced its close rival last year due to limited supply, with the price ranging from RM50 to RM100 per kg.
But where did this durian come from?
Black Thorn or Duri Hitam originated from Kampung Lima Kongsi, near Sungai Bakap, Penang. The tree's owner, Bagi Kau, brought back the seed from a durian he ate in Thailand (type unknown). He kept the durian as a secret and refused to propagate it.
In the mid-1980s, Bagi Kau allowed his friend Leow Cheok Keong to plant the seedlings in his farm in Nibong Tebal. When the trees first dropped fruits, Leow Cheok Keong was unimpressed. But the sweet and pasty, pale berry rosé durian matured around the 2000s and turned into luscious and creamier durian.
In 2011, Leow Cheok Keong entered his Black Thorns into the Penang State Durian competition and won the first prize, and again in the following year.
Malaysian Agricultural Research and Development Institute (MARDI) officially entered Black Thorn into the registry as D200 in 2013, citing Leow Cheok Keong's farm as the source.
Today, one of the largest Black Thorn orchards in Malaysia is owned by farmer Heng Mee Oo, with close to 6,000 Black Thorn trees.
Bandar Baharu District Agriculture Officer Awang Iffaizul Awang Mohd Sapuani is now encouraging more durian orchard owners to switch to Black Thorn because it promises better earnings in three years' time.
Last year, durian was regarded as a new source of Malaysia's agriculture wealth.
The government's move to export durian to China has had some durian lovers worried that the price would spike and there would not be enough durian left to buy and eat.
But it has been ensured that there would be plenty of durian for everyone from the 72,464ha of durian orchards in the country. On top of this, the biggest durian festival is still currently being held by Resort World Genting at Genting Grand Outdoor Car Park.
All they have to do is drive up to 6,000 feet above sea level, or opt for any durian kampung feasts at the nearest villages to get a taste of the durian before September ends.