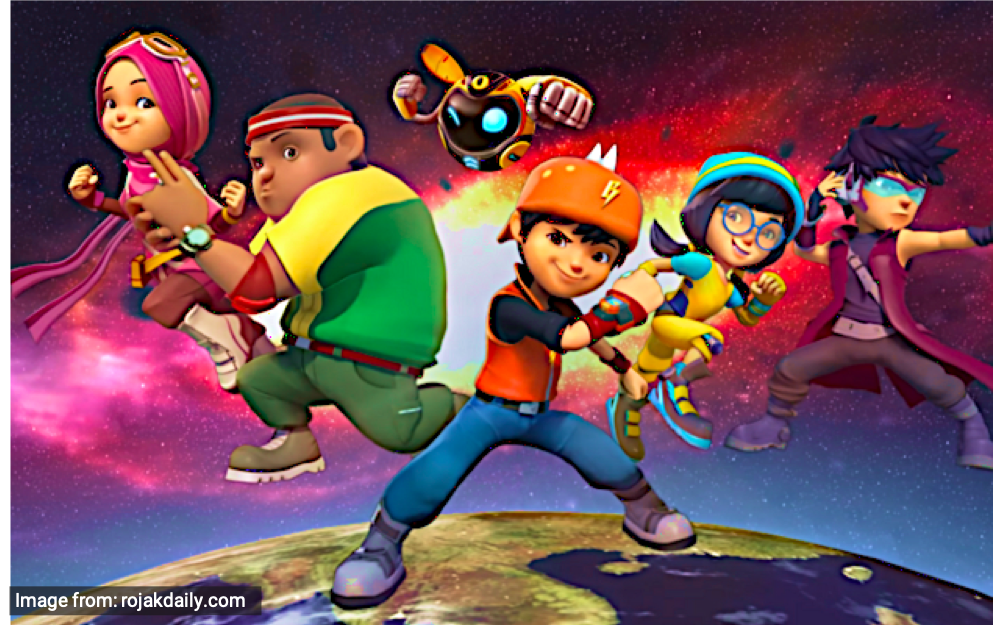 From street crime fighting-hero Keluang Man to intergalactic superhero BoBoiBoy, Malaysian animation has come a long way.
Just recently, Animonsta Studios released BoBoiBoy the Movie 2 – a superhero comedy animation film that follows the story of BoBoiBoy and his group of super friends protecting the Earth while fighting a villain named Retak'ka whose mission is to take BoBoiBoy's elemental superpowers.
Admittedly, some moviegoers were skeptical when the film was first announced, but after sitting through one hour and 50 minutes in the cinema with the humorous, action-packed film playing on the big screen, many came out of the hall smiling.
In just five days, the film collected almost RM10 million at box office.
The success shows Malaysians' massive support for local films, and how it has evolved from those time when going to the cinemas was only meant for watching Hollywood movies.
Malaysian animation is a big industry now, exceptionally different if compared to what it was three decades ago.
According to Malaysia Digital Economy Corporation (MDEC), there are now over 100 homegrown studios that have produced more than 20 original IPs and seen their work travel to more than 120 countries, with an export value of RM132 million.

But Malaysian animation wasn't always outstanding
The first Malaysian animation went back to 1961, when Anandam Xavier, a set designer from the Malayan Film Unit created by the British colonialists in 1946 was asked to handle an animation project.
Xavier came out with Hikayat Sang Kancil, which saw the light of day in 1983.
The following years were flooded by more hand-drawn animation shorts written and directed by Hassan Abd. Muthalib, such as Sang Kancil dan Monyet (1984), Sang Kancil dan Buaya (1985), and Arnab Yang Sombong (1985).
All of these became known as kisah-kisah teladan (folklore/ legends) for children to learn valuable life lessons from.
The outpouring of animation products led to the emergence of two animation studios, FilmArt (1984) and Lensamation (1987). Soon after, art training programs and schools were built, securing a path in the creative industry for those interested and with talents to sharpen.
Then, in 1995, the Malaysian first animated television cartoon series Usop Sontorian made its historical debut.
Upin & Ipin took it one step further
Usop Sontorian was a cartoon series created by Ujang and Kamn Ismail of Kharisma Pictures. It tells the life of a village boy named Usop, who together with his group of friends Abu, Dol, Ah Kim, Vellu, and Singh enjoy living their day to day lives in a small village.
After Usop Sontorian, came a more evolved cartoon series with a similar theme.
Kampung Boy, originally adapted from a graphic novel by cartoonist Lat, first broadcast in 1997 and ended in 2000. The series also tells the adventures of a village boy alongside his small circle of friends and family members as they coursed through life.
Anak-anak Sidek began its airing from 1999 until 2003. Also set in a village, the series was adapted from an autobiography comic that tells the story of the country's badminton champions.
From Putih to Budak Lapok to Bola Kampung, Malaysian animation was slowly but constantly improving and boosting. And when Upin & Ipin came into the picture, that's when it finally took off.
Of village boy, intergalactic superhero, and superspy
Today, Upin & Ipin is widely known in Asia, being screened in 17 countries and reaching some 300 million people.
Starting off with a simple concept of a pair of twins living with their grandmother and an older sister in a peaceful village, the series is now well-loved by Malaysians and has become a part of the country's pop culture.
Parents find it relatable, and children find it enjoyable.
If Upin & Ipin is famous with its tagline "Betul! Betul! Betul!", BoBoiBoy has stepped up with its own "Terbaik!" ("Awesome!") catchphrase that has been imitated by all children hooked on the series.
First available for streaming on YouTube in 2013, the series has reached over 45 countries worldwide. The English voice-over translation has made it easier for people from other countries to watch and enjoy it.
Rich background story, funny characters, and sharp movements in every action scene have all contributed to the success of BoBoiBoy.
But now, a new player in animation scene, Ejen Ali, is making its way to fame and international recognition. Created by WAU Animation, the series started to gather its own fans and followers since 2015.
The story centres on spy and intelligence, and the name Ali was chosen because it is a simple name and it always appears in school textbooks. After the success of two seasons as a television cartoon series, the first movie is scheduled to be released in November 2019.
Some might even say that Ejen Ali could challenge BoBoiBoy's place on the animation stage. It is definitely the next big thing.
It is difficult for local films to penetrate international market, but Malaysian animation has proven that doing so is not impossible.
The quality it produces and the amount of fun it brings amaze a lot of people, and these two things are more than enough for a Malaysian to say, "I went to the cinema to watch BoBoiBoy, and I'm proud that our people made it!"